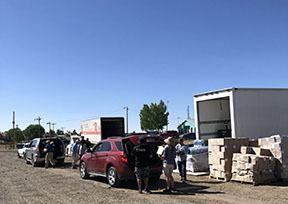 Each month, about 300 families benefit from the partnership between the Food Depot out of Santa Fe and the various Las Vegas agencies who have teamed up with this important resource. Currently the Food Depot is working with First United Presbyterian Church. The distribution events are coordinated by Karyl Lyne and Judy Long.
We distributed food to 316 households on April 14, 2023, with 19 volunteers.   The City of Las Vegas had fixed the gate into Rodriguez Park, so the traffic flow was much better.  We loaded fresh pears, onions, tomatoes, bread, pastries, frozen vegetables and pantry boxes in all the cars. We continue to try and give people choices as to which foods they would like.  We are always looking for new volunteers, so if you know someone who would like to help out on the 2nd Friday of the month, please have them contact Judy Long.  Thanks to the Food Depot for all their effort to get food to people who need it.   
From 2022 during the fires – "Our biggest recent distribution happened because of a pop-up pantry requested by Gov. Michelle Lujan-Grishom," Karyl said. "This one-time event occurred May 25 in response to the growing need for food by people displaced by fires in the area. More than 270 households were served that day."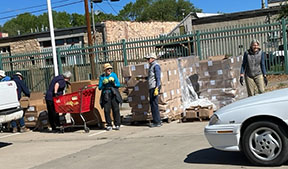 The Food Depot website states that the agency strives to end hunger in Northern New Mexico. The food bank collects food and related products through collaborative relationships with the food industry, governments, other food banks, and the community. The Food Depot distributes what we collect through our network of charitable food providers to feed those who suffer from hunger. The Food Depot distributes an average of 440,000 pounds of food and household products, providing 370,000 meals each month. The food bank serves people in need through more than 145 nonprofit partner agencies in nine Northern New Mexico counties – Santa Fe, San Miguel, Rio Arriba, Taos, Mora, Colfax, Los Alamos, Union, and Harding. The agencies we supply include food pantries, hot meal programs, shelters for the homeless and battered families, youth programs, group homes, and senior centers. The Food Depot is a 501(c)(3) organization, with an IRS ruling year of 1994, and donations are tax-deductible.
The Mobil Food Pantry is scheduled to be at Rodriguez Park on the second Friday of each month from 9:30 to 11 a.m. Contact Karyl Lyne for more information at 505-718-6475. Volunteers are needed to load the food from the pallets into the cars.
"If you wish to volunteer, please be at Rodriguez Park at 9 a.m. on the second Friday of the month for training and work assignments," Karyl said.
Photos: Judy Long and Karyl Lyne