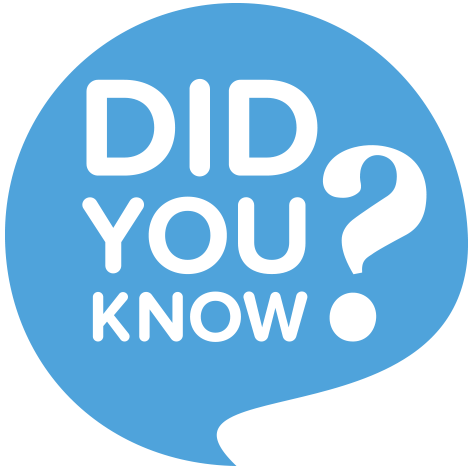 We hope you enjoy these short items from our history. Source material for DID YOU KNOW comes largely from a timeline of the church created by Richard Lindeborg. Logos information and photos provided by Carol Linder.
DID YOU KNOW, in 1870, what would become the oldest existing New Mexico Protestant Church building standing today, was erected on Socorro Street in Las Vegas, NM. The original First Presbyterian Church was built by Rev. John Annin and his associate Jose Ynes Perea, later to become Rev. Jose Perea.
DID YOU KNOW, the bell in the Douglas Avenue church steeple was cast in Troy, NY, and weighs 831 pounds. The bell was hauled the last 250 miles into Las Vegas by wagon train because the Santa Fe railroad ended in Grenada, Colorado.
DID YOU KNOW, the railroad arrived in East Las Vegas on July 4,1879. The new town grew up around the railroad and was the impetus for construction of a new church building on Douglas Avenue in 1880. The original church on Socorro Street was virtually abandoned until a Spanish Presbyterian church was organized in 1884. In 1960 the two churches combined into the present Presbyterian church at 1000 Douglas Avenue.
DID YOU KNOW, our church Mission Statement is: With Christ as the center of our ministry, First United Presbyterian Church is dedicated to sharing the love of Christ in our community  and beyond. We accomplish our mission by improving the spiritual life and resources of our church and community, making our community a better place in which to live, making our organizational structure more flexible and productive, and by conducting more effective evangelism through projects, education, programs and outreach.
DID YOU KNOW, Logos, an afterschool program for children, ran from the fall of 1996 through May 2004. The outreach program was a joint venture with St. Paul's Episcopal Lutheran and Methodist churches working closely as partners providing teachers and volunteers. My daughter Katie joined the program as a kindergartner in the fall of 1997 when we moved to Las Vegas and the program was under the direction of Rev. Liz Graham. Logos was a major factor in our decision to join the Presbyterian Church. I took over leadership in the fall of 1998. That year the program for K – 5th grade was expanded to include a Peanuts group for pre-kindergartners of teachers, so our son Charlie was able to participate as a three-year-old along with Leah and Taylor Vetters, daughters of Rev. Michelle Vetters. We later expanded the program to include youth through 8th grade. (A favorite memory from Carol Linder)  
DID YOU KNOW – Logos left a lasting imprint on the adults and youth involved. From Juli Salman (parent and teacher):  I loved working with Joan Boliek and the younger kids. She was so resourceful and creative and taught me a lot about being patient and being able to adjust expectations on the fly. We made a large cardboard, life-size tree in the center of our classroom one year. All our lessons were taught under the tree which morphed for each season and holiday. Joan was a wonderfully inspirational person and I still miss her.
DID YOU KNOW – Logos left a lasting imprint on the adults and youth involved. From Molly Salman (participant): I remember when Michelle taught us to "clown around". You had to come up with your clown identity. I'm pretty sure I was a grumpy clown… not too far off from my real-life identity! Can you identify the "clowns"in this photo? They're all grown up, now.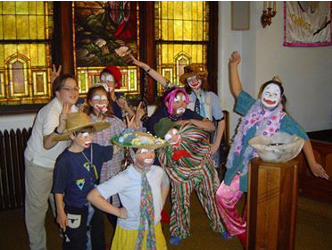 DID YOU KNOW, in 1967, the church joins others in establishing the Alcohol Health and Information Center, soon to have its own building and be named for Rev. Robert Plagge. Membership briefly returns to above 200.
DID YOU KNOW, in 1968, First United Presbyterian Church, the First Christian Church, and St. Paul's Episcopal Church jointly ran a facility for university age young people. Called the 714 Coffee House, located in the original adobe Episcopal Church building at 714 National Avenue. Presbyterian support for the venture was provided by the Westminster Foundation. Programming at the coffee house was prominently featured in the 1968 Southwest Wind yearbook of Highlands University. Issues of the Vietnam War and the military draft were frequent topics of discussion. (Source: Jay Schufle)
DID YOU KNOW, this photo came by way of Jose (J.D.) Vasquez III. He writes that it is a picture of the Presbyterian Church (old town) of which his family were members. The pastor, on the left in front, is Rev. Tomas Gonzales. Bert Forbes, a former member of the Douglas Street church, wrote that he has many good memories of joint services, joint parties, joint picnics and joint pot lucks. "The ladies from the West Vegas church made the absolutely best enchiladas I've ever had, and brought them to our mutual pot lucks. Lucky me. The pastor, Tom Gonzales, was a wonderful man."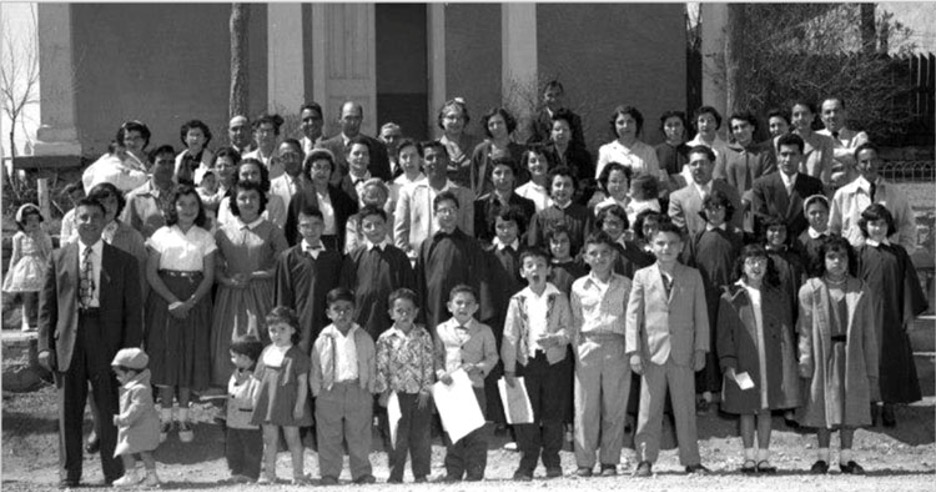 DID YOU KNOW, in 1969 the church opened a clothing warehouse in cooperation with the Catholic Church and others, under the St. Vincent DePaul name. In this same year, the history of our church, "Preparing the Way," was written and 300 copies were published. Each church family received a free copy; extra copies sold for $3 each to help defray the cost of publication.
DID YOU KNOW, in 1970, the church has a unicameral board, serving as both session and trustees. The city and town of Las Vegas combined into a single entity in 1970, the 100th anniversary of Presbyterianism in our community. Our church looked forward to the future. "Perhaps our church, which is so fortunate in having members from both cultures, can take a leading part in helping to build the new and greater Las Vegas," wrote Jay Schufle. "Perhaps all our efforts up to now have been but preparing the way for this great new calling for our church." In the early 1970s government and other grants were flowing quite freely and our church, in cooperation with other churches and civic organizations, established what we called "extended mission programs" with individual budgets of $50,000 to $100,000 per year with significant facilities and even paid staff.
DID YOU KNOW, in 1972, the Church founded Presbyterian New Horizons Preschool and later built an education wing to house it and other functions. The church bought a building on Bridge Street from former Las Vegas Mayor Junio Lopez for nearly $16,000 to house a university/community coffee house called The Upstairs, a crisis center called The Bridge, and a drug program called La Salida.
DID YOU KNOW, in 1973 the church participated, along with the campus ministry and others, in founding La Salida, a drug rehabilitation center (in the Malouf Building on Bridge Street). On Aug. 5, 1973, the new building of the Las Vegas Alcoholism Center, next door to the historic Presbyterian Mission Community Center on Socorro St., was dedicated and renamed the Plagge Memorial Center, in memory of the Rev. Robert Plagge, former pastor. Construction of the building was made possible by funds from the Presbyterian Board of Missions. The building was partly purchased and partly leased from our church. (Source Las Vegas Optic)
DID YOU KNOW, in 1974, the church started a newsletter. Seven groups on mission trips helped a group of dedicated members (including Caroline Rackley's father, John) in making major repairs and improvements to our already old buildings. What was required of all these people? The rotted-out nursery floor had to be replaced. A metal roof had to be put on the Sanctuary of the church building and nursery. A new roof was constructed over the constantly leaking west Sunday school room. Tunneling under the old mission church building to enable future installation of restroom and shower facilities. Painting inside and out of the Douglas Avenue church, with 46 gallons of donated paint. Badly needed repairs on the Sixth Street manse. Yardwork at the Old Town Mission, Douglas Avenue building and manse. Remodeling the kitchen with new cupboards, wiring, and countertops. Roy Carlson (Robin's father) revamped the furnace so it could be enclosed.
DID YOU KNOW, in 1976, the church's Per Capita assessment from the Presbytery rises to $4.47! Today it is $35. What is Per Capita? FUPC pays our 'per capita' to Presbytery each year. This money supports the work of the mid-councils, presbyteries and synods, and the national church. Each of us can help by reimbursing our church for our individual per capita. Just write per capita, which means 'per head' by the way, in the memo line or designate per capita if you donate online.
DID YOU KNOW, Logos lasting imprint on the adults and youth involved lives on. (From Chad Boliek) So many positive memories it's hard to select just one or two. These come to mind but barely scratch the surface: Prepping and sharing with Joan every week. Making movies of Biblical stories like Noah, The Prodigal Son (or was it Daughter?), Esther, and others. Bruce Wertz as the voice of God! Beards by Patrick Rucker. Teaching and theologizing with Elizabeth Ratzlaff. Snacks every week (Grace Betty Detterick and Marilyn Ernest faithfully in the Methodist kitchen). Picking up kids at Sapello School (which serendipitously led to my volunteering at that school). The kids! Watching them grow up. Staying friends with many. 
DID YOU KNOW, the church bell at the Douglas Avenue church was brought by the Kit Carson Company in a wagon owned by Browne & Manzanares Company. The Brown and Manzanares company was working on Santa Fe Railroad. Mr. Browne was Bruce's great-great-grandfather. The bell was originally hung at the Mission Church. The Santa Fe Railroad arrived in Las Vegas July 4, 1879 and the bell arrived a couple of years later. Browne & Manzanares Company was located where Hayes plumbing is now. (From Bruce Wertz)
DID YOU KNOW, In 1977 our church participated in founding Samaritan House, in the Old Town Mission building, where it remained until 2006.
DID YOU KNOW, in 1982, the church joined with others to form the Habitat for Humanity affiliate in Las Vegas. Its office was at the old Episcopal church on National Avenue for many years.
DID YOU KNOW, in 1985 the church was undergoing change. Funds were drying up and programs shutting down. We sold the building purchased on Bridge Street for $16,000, for nearly $53,000 and bought a large plot of land north of town in anticipation of building a new and bigger church to accommodate our growing congregation. The trustees felt the 1000 Douglas Ave. building was too old and deteriorated and "not conducive to adding on or to making a second story. Plus, there is limited parking, particularly for weekday activities." In the intervening years, the congregation shrank, the church built on the east wing, and added a second story. Only the parking problem remains! –From annual reports 1971-1977 and 1984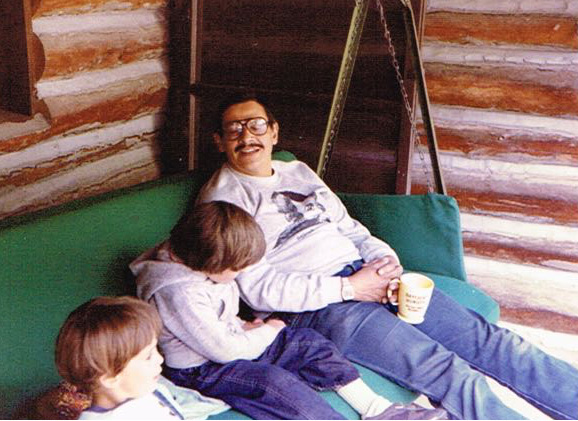 DID YOU KNOW, the Litherland/Hilton ranch hosted the church retreat in 1986 ('87?). Here is Art Trujillo with two friends (sons?). Can anyone identify these handsome lads? The boys; we already know which one is Art!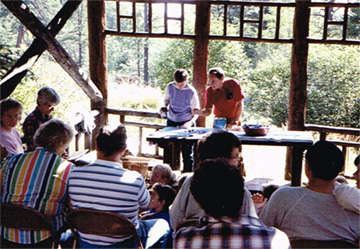 DID YOU KNOW, the Litherland/Hilton ranch hosted the church retreat in 1986 ('87?). That's Rev. Don Wales leading worship service, Or (Van speculates) is he rolling dice for a game of chance? Far left in this photo is Sherrie Doke. Any guesses who others are?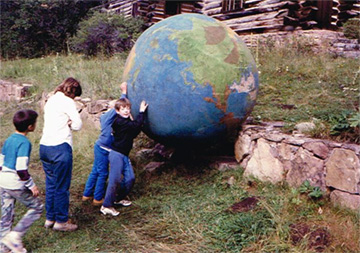 DID YOU KNOW, the Litherland/Hilton ranch hosted the church retreat in 1986 ('87?) Bonnie Trujillo supervises as Pete Swan, Sam Doke and one of the Torres boys (Jude or Jespah?), push an Earth ball up the hill. The ball, brought by Ed Katzenberger, was a big hit.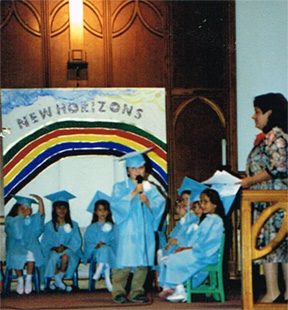 DID YOU KNOW, New Horizons had graduation ceremonies every year? At the 1987 graduation, Brian Swan was a speaker. Also pictured is the longtime head of NH, Shirley Sandoval.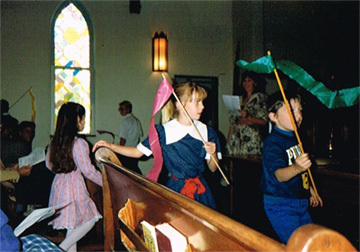 DID YOU KNOW, Celebrations featuring children were common occurrences back in the day. This is from Easter 1984 and features (best guess by Van Swan), foreground – Jerusha Torres, Lizzie Doke, Brian Swan; background, Sam Doke and Judy Long.