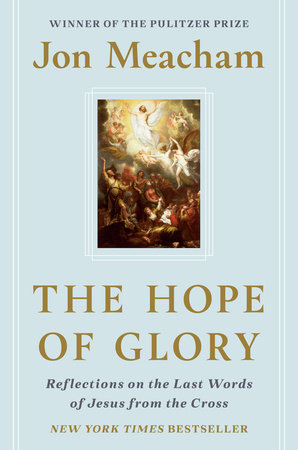 The Sunday morning Bible-based class for youth and adults will be discussing The Hope of Glory: Reflections on the last words of Jesus from the Cross by Jon Meacham, Pulitzer Prize winning Biographer of George HW Bush, Thomas Jefferson, Andrew Jackson, and The Soul of America, American Gospel among others.
The Carolyn T. and Robert M. Rogers Chair in the American Presidency and distinguished visiting professor at Vanderbilt University, Meacham was educated at The University of the South, is a former member of the vestries of St. Thomas Church Fifth Avenue and of Trinity Church Wall Street.
For Jon Meacham, as for believers worldwide, the events of Good Friday and Easter reveal essential truths about Christianity. Meacham delves the seven phrases Jesus spoke from the cross. combining rich historical and theological insights to reflect on the Christian story.
Used hardbacks available from Amazon for about $12 including shipping, $8 from AbeBooks, and $8-12 from Alibris.  Reading assignments are posted near the main entrance and in Perea Hall, as well as listed in the May newsletter.