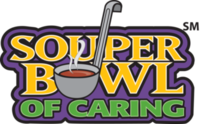 The Souper Bowl of Caring began in 1990 with a simple prayer said by Reverend Brad Smith at Spring Valley Presbyterian Church in Columbia, South Carolina: Lord, even as we enjoy the Super Bowl football game, help us be mindful of those who are without a bowl of soup to eat. 22 churches raised $5,700 in the first year.
The tradition has evolved in to a fund raising effort throughout the United States with churches contributing to their local programs to feed the hungry. First United Presbyterian Church has participated in this in the past with activities at the church, however because of Covid precautions, we are avoiding getting together at this time.
Please consider making a donation which will then be passed on to our Samaritan House. You may contribute to this online by clicking the button below, or you can mail a check to the office made out to FUPC with "Souper Bowl" in the memo line.
Thank you for your continued giving to our community!