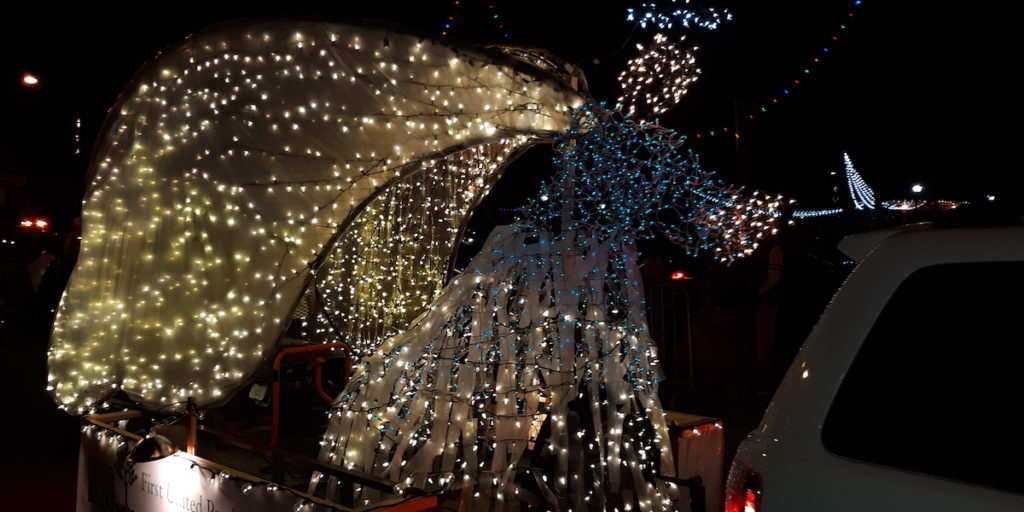 Isn't she gorgeous? This is our church's entry in the December 14 Electric Light Parade. This beautiful angel float raised awareness of our upcoming 150th anniversary and our new "Seeds. Roots. Branches." logo. We were awarded Second Place by the parade judges. Not bad for a first entry!
The theme of the parade was "A Magical Christmas. Film & Television". Our float was based on a line from the classic movie It's a Wonderful Life: "Every time a bell rings, an angel gets his wings." The float featured a beautiful angel in lights with airy wings. Each side of the base of the float had a banner with our "Seeds. Roots. Branches." logo and "First United Presbyterian Church, Celebrating 150 Years in Our Community". In addition to the float itself, there were four angels ringing handbells and two more angels handing out seed packets with the same information as the banners.
Based on comments from the crowd, we succeeded in our goal of raising awareness of the church and our anniversary. As an added bonus, we heard comments from children like, "Look, Dad, an angel!" A pretty wonderful evening for all.
A huge thank you to Jeff Salman for leading the team in their many hours devoted to the float. Float builders: Jeff Salman, Juli Salman, Judy Long, Carol Linder. Seed packets: Juli Salman, Jan Beurskens, Sharon Vander Meer. Angel bell ringers: Juli Salman, Chelsea Gutierrez, Carol Linder, Denice Spicer. Angel seed packet distributors: Linda Cunningham, Sharon Vander Meer. Float theme idea: Kevin Johnson.