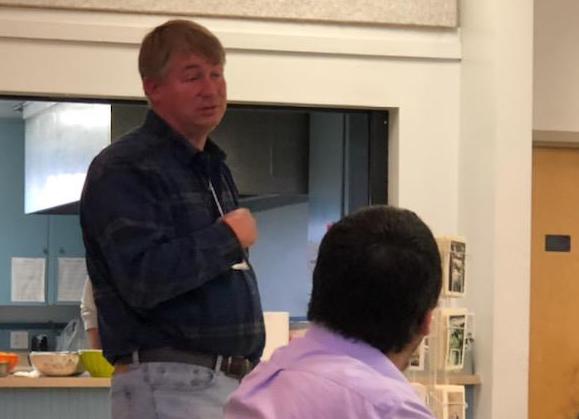 The Understanding Immigration Task Force hosted a potluck on Friday, February 21 in Perea Hall to hear from Mark Adams, who has been working at the border for many years.
Rev. Mark Adams is the U.S. Coordinator of Frontera de Cristo, a border ministry of the national Presbyterian Church (PCUSA).  He's been there for more than 20 years and has deep insight as to what's happening there.  His wife, Miriam, migrated from Chiapas, Mexico many years ago. They have three children who are growing  up on both sides of the border despite the wall.  
Frontera de Cristo partners with the Mennonite Community, the Catholic Church and others who are interested in self-development projects on the Mexican side. The ministry also hosts delegations from universities, schools and churches from all across the U.S. and beyond, educating participants about the possibilities and problems of the borderlands, allowing them to see the truth for themselves. The website is <www.fronteradecristo.org>.